It's been a long time coming. In fact, it's been almost a whole decade since we had a new GTA game to talk about! But yesterday, Rockstar Games finally confirmed that development of the next instalment of the Grand Theft Auto series is "well underway".
I think most - perhaps all - fans of the franchise suspected this to be the case, but until now it was pure wishful thinking. The confirmation came as part of the latest community update posted on the Rockstar Newswire, and this following tidbit of information has already seen fans buzzing on social media with speculation.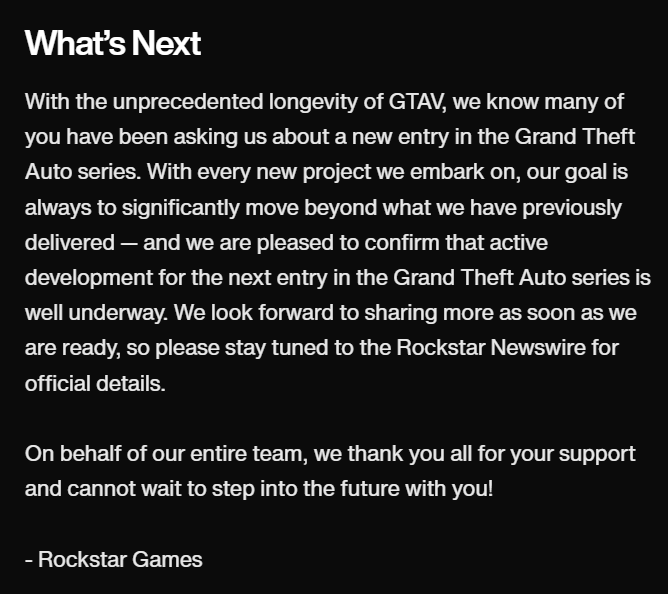 See also: Twitter thread
Attention has been cast on that final sentence in particular:
Quote

[we] cannot wait to step into the future with you!
Of course, this could just be a mere figure of speech, but many fans are already speculating that this could point to a futuristic setting. Indeed, we've already seen Rockstar Games explore the 80s, 90s, and modern day era with the releases from GTA III through to GTA V, so a near future setting would provide something fresh for the developers to work with, and give even more creative freedom surrounding the gameplay and storytelling. That being said, it's important to note that this is simply speculation for now, Rockstar Games as a company is famous for remaining tight-lipped regarding information on upcoming titles. Speaking of which, forget the setting or location, we don't even have the title yet. We're tentatively referring to it as GTA VI for now.
Does this mean TGTAP is coming back?
Good question! It's been over 5 years since we last posted any news on the website. GTA Online of course became Rockstar's main focus throughout this time, and the unstoppable rise of social media, and Rockstar's own Newswire blog, rendered most of the smaller fansites like ours somewhat redundant. The drastic drop in traffic, coupled with real life getting in the way, has meant that fansites like TGTAP - and numerous others - have been neglected. I won't deny that this announcement has certainly piqued my interest once again, though, so no promises but all I can say is... we'll see.