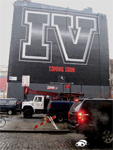 Once again some more posters advertising Grand Theft Auto IV have been spotted in New York City, you may remember last month gaming blog Kotaku posted about some posters plastered around the city. Today, we have more of the same, except this time the posters are absolutely massive.
Click the picture to the right to see the scale of this thing, which is painted on a building in SoHo street.
Strangely enough, the general public won't have a clue what this is even advertising unless they visit the website address shown in comparitively small print at the bottom of the ad. Though perhaps that's a good thing considering what certain politicians are like these days.