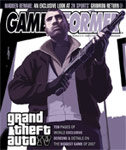 Some luckly subscribers have already received their copy of GameInformer, the one with the world exclusive 10 page preview of GTA 4. The following is a summary of what we've learned from the magazine. More in depth details will be posted later, with further analysis.
The Facts
The main character's name is Niko Bellic - he is an Eastern European immigrant

Bellic arrives in Liberty City as he has been receiving emails from his cousin, Roman. At the start of the game, he is the only person you know.

Roman lies to get Niko to come to Liberty City, by telling him he has women, cars and money...he is actually in huge debt. Niko thinks he will live the "American Dream".

The Statue of Liberty is now called the Statue of Happiness, while DUMBO (Down Under the Manhattan Bridge Overpass) is known as BOABO (Beneath the Offramp of the Algoquin Bridge Overpass).

Liberty City's similarities to New York are as follows, with 4 of the 5 boroughs being recreated: Brooklyn = Broker; Manhattan = Algonquin; Queens = Dukes; Bronx = Bohan; New Jersey = Alderney

The scale of Liberty City is slightly smaller than San Andreas, except now there are no wasted parts (with countryside for example), it is a lot more detailed.

Multiplayer modes in GTA 4 are still to be announced, however, Rockstar have said it won't be a massively multiplayer online game. They are making something interesting, fun and progressive, and which ties in with single player gameplay.

Since it's only New York, there will be no planes in the game which you can pilot. Rockstar want the game to seem realistic, i.e. you won't be needing planes.

Pedestrians are a lot more realistic, and do things such as smoke, sit on benches, read, go shopping, eat, and more...

Rockstar have been working very hard on the targeting system - expect it to be a big improvement from previous games.

After the initial loading sequence, there will be no more loading screens to sit through, not even when transitioning between interior and exterior environments

While making the game, Rockstar consulted crime experts and ex-policemen and found that being a criminal is much more difficult now than it was during previous decades, so they have tried to reflect this in the game. Expect to see people getting arrested as the police are a heavy presence.

As Rockstar North are approaching the recruitment of voice actors in a different way. We probably won't hear and recognisable voices in GTA 4 because they are looking for voices that suit the attitude of the characters - This approach is also being carried over to the soundtrack, where R* are looking for music which works well with the modern day Liberty City.

You will use a cell phone to call contacts

The visual effects of the game will be massively enhanced - the rising and setting sun will reflect off glass and light up details on buildings; the streets will have potholes and rubble. Variations in terrain are reflected in the way people walk over it.

A big part of the game is delivering story in new ways and allowing the player to plot their own destiny

GameInformer played the Xbox 360 version, and say the graphics are not representative of the final version. The final version will look better than these shots suggest

Huge thanks to demologik at GTAForums for getting the mag so quickly, and providing the pictures of it. You can discuss how you feel about GTA 4 as we learn new details in our forum.