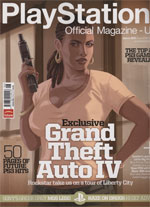 The Grand Theft Auto IV preview we reported on a couple of weeks ago in the UK publication Official PlayStation Magazine has today been dropping through the letterboxes of some lucky subscribers. There's a fair amount of new information in the magazine, which we've summarised below.
The protagonist Niko Bellic is in his mid-thirties, and although not customisable, you will be able to don him with new outfits and such. Rockstar said they got Niko's physics just right and found it was difficult to implement character customisation with regards to this.

Staten Island, the only area of New York not recreated in Liberty City was left out due to Rockstar deciding it would not be a fun location to play in.

There are no "dead spots" or "irrelevant space" in the game.

There really are no loading screens once you're in the game, even when moving from exterior to interior, moving between the two will be seamless

The mob will be featured in the game, though they won't be lead characters. Additionally, 'hardly any' of the characters from previous games will return.

Missions will offer an increased amount of realism, and will be longer and more varied, some will even have multiple possible outcomes.

Bridges will possibly keep you from accessing other boroughs at the start of the game, but this hasn't yet been finalised.

What comes as a big relief to us is that there's no more pop-ups of buildings and foliage as we've seen in the past thanks to the completely overhauled graphics engine.

Dan Houser stated that no one has attempted to recreate a location of this size, and with so much detail, ever before.

The Artificial Intelligence of the NPC's has received a huge overhaul, pedestrians do a wide variety of things which were mentioned in the GameInformer article, and they even react to events such as a gun being pulled on them.

Shooting is said to be much more precise and fluid than in previous games.

Niko can use his mobile phone to do things such as set up deals and ambushes

Rockstar haven't yet decided how to make use of Sony's SIXAXIS controller for the PlayStation 3 version of the game.

Planes were not included in the game because there isn't enough room for them, and you would traverse the city too quickly. As we confirmed before though, we will be able to pilot helicopters.

Rockstar have promised a wider range of side-missions to partake in while not playing through the main storyline.

Thanks to Adds for the scans.