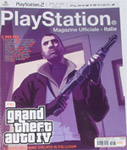 Italy's version of Official PlayStation magazine have a preview of GTA IV this month, they also seem to have received the same demo as the other mags we've reported on so far. There isn't much new to say on this one if you read the new tidbits from OXM we posted about today. However, there are a few additional details to mention which clarify some of the things in said OXM article.
Further to the new targeting system, it appears Niko is able to strafe left and right when locked on to a target after pulling out a weapon to avoid being shot.

Emphasising the detailing gone into the city, you can see what's under grates on the sidewalk providing there's enough light shining into it.

While hi-jacking cars driving along the road is a familiar task for GTA players, hi-jacking a parked vehicle seems like it has more to it now. No longer can you simply open the door and drive off. Now you'll have to be stealthy about it, break the window to get in, and then hot wire it.

These details may be a little sketchy due to mistranslation, as obviously the magazine is in Italian so keep checking back for any further clarification we get on the aforementioned details. Also in the magazine is some new artwork, depicting a man laying on a sofa smoking an unknown substance.
Thanks to GTA-Series for the scans and translation.