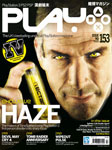 Issue #153 of PLAY, the UK publication we reported on last month because of a printing error with the IV logo is now out. The 5 page preview provides a couple of interesting tidbits, in what is otherwise full of information we already know about.
Niko's cousin Roman is thousands of dollars in debt

Niko's mobile phone has the ability to receive text messages and also has a camera which you can take pictures with.

In next month's issue (available on 14th June 2007) PLAY will feature an exclusive preview of the game which they are hyping up quite a bit

Thanks to MattyBlog for the scans.