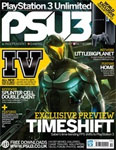 UK publication Playstation 3 Unlimited has a new 6 page preview of GTA IV. There are a few new minor details provided by the magazine in its June issue.
There are about four different camera angles

The in-car camera basically acts as a first-person view, where you're able to look around across the bonnet (hood)

Weather effects aren't merely for show, they will affect gameplay (such as vehicle handling)

You'll be able to use the right analogue stick on the Xbox 360 (and presumably PS3) controller to look around.