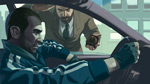 The second Grand Theft Auto IV trailer will be hitting the Internet on June 28th!
It will be titled "Looking for that special someone". The splash page on the official website has now been updated to reflect this new trailer's arrival. Also included in the email from the R* mailing list was one new artwork which you can view in full by clicking the thumbnail to the right.
Expect another round of widespread server crashes in 17 days!
Link: Official GTA IV Website