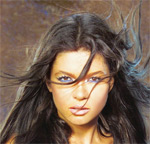 The first confirmed voice actor to be playing a part in GTA IV became known yesterday. Ruslana, winner of the 2004 Eurovision Song Contest is apparently flying out to New York to record her voice for Grand Theft Auto IV. The character she is voice acting for is being kept a secret for now, and unlike other game publishers, Rockstar like to keep quiet about actors and actresses working on their games, so don't expect any answers soon.
In addition to voicing, the Ukrainian star is also going to have some of her songs used in the soundtrack for the game, both from her previous albums and current album. We'd take a wild guess here and say these will form part of the "Eastern European dance music" radio station which one of the Xbox magazines spoke about a couple of months ago.
You can find out more about Ruslana on her official website.
Source: ESC Today (UPDATE: The article appears to have now been pulled from the website, presumably Rockstar requested it to be taken down)
Thanks R_sPeEd.