Remember the massive GTA IV advertisement in New York? Well it recently underwent a face-lift! The advertisement used to read "IV", and then "Coming Soon" underneath the giant logo, it was changed to the newest GTA IV logo, which reads "Grand Theft Auto IV" and they've taken out the "Coming Soon" from the ad. (Rockstar Games logo is still there, as is the ESRB "RP" rating, as is "RockstarGames.com".) They've changed it to the logo used on the official GTA IV site, which can be found here. Below are pictures of the building undergoing the changes: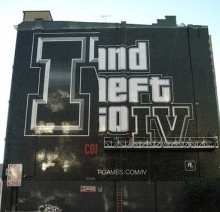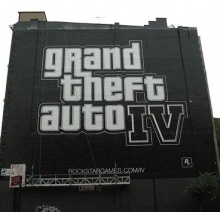 Bigger versions of those images of the building can be found at "nicknormal"'s Flickr. If you want to see the building for yourself, it's located at "the corner of Greene Street and Canal in New York City". This seems to me, to be the final logo for the game. It's on the official website, they're using it on advertisements, it was in a few magazines, I'd expect to see this logo on the final box art for the game as well.
Thanks Gerard, Adriaan and nicknormal.