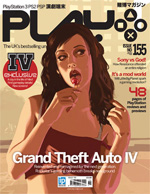 A few new details on GTA IV can be seen in the newest edition of PLAY magazine, a lot of the preview though is sadly just like Monday's GamesTM preview. The magazine is a UK-only magazine, and should be on store shelves right now, or very soon! Below are some of the highlights from said preview:
"Little Jacob", an arm's dealer is said to be a good friend of Niko's cousin, you can buy weapons from him. The weapon's are in the trunk of his car, and the method used to purchase the weapons is very similar to the way you would buy weapons from an Ammu-Nation in the other GTA's.

Niko meets with "Little Jacob" in Rotterdam Hill, in Alderney (the game's recreation of New Jersey).

Niko ends up killing Goldberg, the lawyer, as a "favor". (This will most likely be a mission.)

Rockstar showed off Goldberg's death twice, both were completely different from each other. (Which makes you think, there will probably be many ways to complete a single mission.)

There were no arrow's on top of certain people you had to kill, you have to figure out who to gun-down on your own.

Multiplayer is accessed through Niko's cell phone. (GTA IV will most likely not have a menu like the other installments I suppose.)

You must maintain and develop relationships with people and friends. (You maintain them by being loyal to the person, etc.) If this means Niko could have a girlfriend if he maintains a relationship with a certain women is unknown at the moment.

You can use objects as cover, blind fire, and roll around. (Somewhat like Gears Of War!)

McReary, is the "corrupt cop", and he has "dirt on Niko's past".

PLAY previewed a mission by the name of "Call And Collect".

Keep checking TheGTAPlace for many more updates on magazine articles like the one above!
Thanks S-4 Gore, for the scans and info!