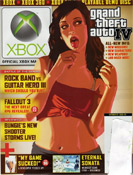 The September(?) issue of US Official Xbox Magazine has brought with it a few more details about GTA IV:
Little Jacob offered weapons including a 9mm pistol, a shotgun, an SMG, and a micro SMG

McReary's first name is Francis, and he knows about a felony Niko committed

Another vehicle is confirmed as it is noted that Niko stole a black Comet before heading off to the Humboldt River Viewpoint to kill the man who has McReary's memory stick.

Before Niko submitted his C.V. to the Goldberg, Ligner & Shyster website, OXM noticed that his C.V. notes that he was on the "Balkan Peace Force" and that he is adept at swimming, shooting and boxing.

Karen is the name of the receptionist from Goldberg, Ligner & Shyster, who calls Niko to notify him of his interview. It's not known if she is an important character or not.

There are no references to the September 11th terrorist attacks anywhere in the game.

Swimming is a confirmed feature

The "Balkan Peace Force" fact is more evidence that Niko is not Russian. There are still some websites saying he is - an Xbox.com editor recently made the mistake of saying Niko is a Russian immigrant. Now if you remember back to the last time OXM had a preview, you might recall the following quote from Dan Houser:
OXM: You've talked about picking culturally different neighbourhoods. Can you reveal any of the gang cultures apart from the Russians?

Dan Houser: I can't reveal gangs too much yet, but one of the things that appealed to us about a) this character (who isn't actually Russian, he's Eastern European, although there will be plenty of Russian gangsters in there) and b ) the story and the world [...]
Thanks to jester210 for the scans.