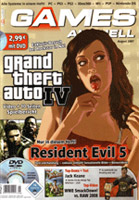 German magazine Games Aktuell (on sale from today) has a new preview on GTA IV, which also includes 20 new screenshots. There were a few tidbits of information flying around the other day, supposedly from this magazine - there were some very sketchy details in it, specifically regarding K9 Units - it turns out these were fabricated by another GameFAQs user. This info below however, is real information from the magazine, translated into English.
The girl in the artwork (sucking the lollipop) is called Lola

Taxi drivers play a very important role in Liberty City - With just a push of a button, Niko can get a ride from "A to B" straight away.

Additionally, the taxi driver will fulfil some of Niko's requests, for example if Niko is hungry, the cab will drive him to the nearest fast food restaurant. If hurt, then he'll drive to the hospital - places are accessible very quickly this way.

The only time you can't get a cab ride is when the cops are after you

On that note, cops appear on your map as dots (while they're searching for you)

The preview Games Aktuell were shown lasted 45 minutes - it was played twice

Similar to Saints Row, your radar will display a yellow line guiding you to your destination

It takes Niko roughly 3 seconds to hot-wire a vehicle.

The targeting system is improved and there are different hit zones

Niko uses his mobile phone and the Internet regularly

The editors reported seeing vehicles including Ferraris, Porsche Carrera (Comet), Volkswagen Jetta, BMWs, Mustangs, SUVs, delivery vans and garbage trucks.

Rockstar demonstrated the game to Games Aktuell on a 60" plasma screen, which didn't have Full HD capability - "this didn't matter because all Rockstar games are programmed "only" in 720p, with 1280x720 pixels" - this is an interesting quote as a lot of people have wondered whether they'll get to play the game in full 1080i/p resolution, seems like it will just be 720p for now, at least on the Xbox 360. It's not known whether the PS3 version will be able to take advantage of the higher resolution. Of course, both consoles can always upscale the game.

Thanks to GTAEngine.de for the scans (now removed) and GTA-Xtreme.de for the info.