Here are the unwatermarked screenshots and artwork from the previews of GTA IV today. Some are brand new, some are higher res versions of old screens, and there is fuller artwork of Elizabeta.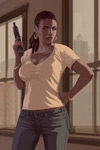 See more screenshots and artwork
If you haven't read any of the previews that have gone online today then you really are missing an awful lot of information. That link leads of our news post of Kikizo's 10 page preview, a site that in our opinion is putting a great deal more effort into their previews than any other sites, filling us in with information that everyone else is missing. However, below are some links to some of the other big gaming sites on the web who have also published previews.