While browsing a few gaming blog websites today, I noticed that they've released a few new photos of the Games Convention show floor. One of them caught my eye in particular: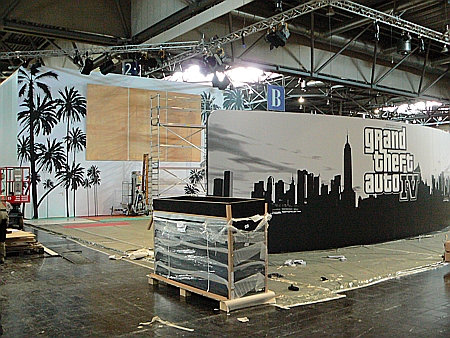 I suppose this confirms that not only will Rockstar Games be at Leipzig, but that GTA IV will also be making an appearance. However, as you can see in that picture of the show floor, since the game has it's own huge billboard at the show, I suppose Rockstar will be announcing something regarding the game. This "something" could be the new release date, a new trailer, and who knows, the game could even be playable at the show (although I highly doubt this).
I'm also assuming that Manhunt 2, Rockstar Games Presents: Table Tennis (Wii), and Bully (Wii, 360) will be at the show as well as GTA IV. The Leipzig Games Convention takes place August 23rd - August 26th, TheGTAPlace will keep you updated on all things concerning GTA IV at the show.