Earlier today, gaming site Kotaku received a massive preview of GTAIV, revealing a significant amount of new information about the game.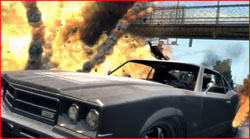 Car chases during missions aren't completely scripted

If a moving car's tires are shot, the car will grind on the rims

An achievement called 'One Man Army' is presumably unlocked by using a rocket launcher to blow up a police helicopter

The current build of the game contains cheats, which the developers used throughout the preview

Skipping the taxi ride will cost you a 'small fee,' in addition to the ride fare

One mission previewed involved Niko sniping gang members in a construction site on a rooftop

Similarly to Gears of War, players can now use cover, blind fire, and free fire their weapons

Niko's health is shown as a green bar that wraps around the radar, while his armor is shown as a similar blue bar

Items that are dropped by NPCs in the game such as money, weapons, and ammo glow in the dark to make them easier to find

While there will be multiplayer, there will be no cooperative gameplay for the story mode

You can check out the full article and screenshots here.
Thanks to ~Brad~ for the news.
EDIT: Kotaku followed up with a Q&A session with Rockstar about the game, which you can read here