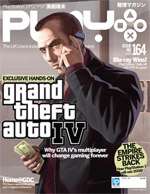 PLAY Magazine, a UK gaming magazine recently got their hands on GTA IV's multiplayer, they feature an eight-page long preview of it in their latest issue. The magazine sadly doesn't give us anything we haven't seen before in terms of screenshots, but it does have a few new minor details on said multiplayer:
Multiplayer is accessed via Niko's mobile phone, and from there you're given the option to select game types, invite friends, etc.

As we've heard, you're allowed to customize your online character, but as you play more you unlock more options (as would be expected).

PLAY Magazine witnessed an ordinary pedestrian spray paint graffiti on the wall of a store; they no longer only walk around and randomly mutter phrases.

PLAY Magazine was allowed to play 8 of the 15 multiplayer modes in GTA IV.

Not every game mode supports up to 16 players.

Full details of what we currently know about the modes can be found on our GTAIV Multiplayer page.
Stay tuned for more information on GTA IV's multiplayer, and the rest of the game as we come closer and closer to the game's release!