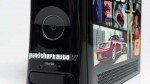 Nearly a week ago TGTAP reported that the press had received one of 500 limited edition GTA IV Xbox 360s. Well today it appears one of said 360s found its way onto eBay! With a "Buy It Now!" price of 0, you get the limited edition Xbox 360, the briefcase filled with accessories, 12 months of Xbox Live, and 1,600 Microsoft Points. The Xbox 360 Elite system is number 92 out of the 500 produced.
Neither I, nor TGTAP know if this auction is authentic or not, so buyers beware. Regardless, hopefully a fan does get their hands on it and shares us some pictures of it in action! The auction can be found here.
Thanks Original GTA Master!