The next round of previews of GTA IV are now online, with these ones focusing on multiplayer again. As expected there's not really any major new bits of information, but the previews are still interesting reads and useful if you missed anything. Links to the previews are at the bottom of this post, and the 12 new screenshots which you may have caught a glimpse of yesterday are now in our gallery.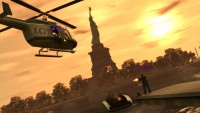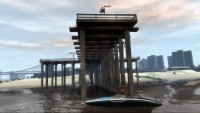 Some interesting points from Kikizo's article:
Each player can choose radio stations independently of everyone else in the car

For those of you worried about lag while playing online, "Rockstar told [Kikizo] that it's been tested with hundreds of people up at Rockstar North and transatlantic, and the performance is apparently consistent and solid".

There's an option to turn off player markers and player locations on the radar, making for some excellent stealthy knife-only matches, for example.

Kikizo's opinion on helicopter travel: "[it's] brilliant - you can lean out of the side in an over-shoulder perspective and shoot bitches on the ground; the cinematic view as the chopper traverses the tangible cityscape is simply awesome."

One notable feature missing from multiplayer is replays - perhaps R* might consider packing this in with downloadable content?

The following websites all have previews up: