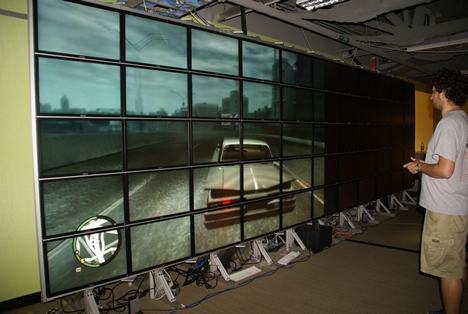 Some amazing gaming is being done down at UC San Diego, with the guys there re-engineering their massive HIPerSpace monitor array to play GTA IV. This system has 220 million pixels and is attached to a "graphics super cluster" that relies on eighty NVIDIA Quadro FX 5600 GPUs.
220 million pixels is roughly equivalent to a 20480×10800 display, a hundred times bigger than the highest-resolution screens we have these days, and 200 times bigger than hi-definition 1080p.
It doesn't look like they're utilising anything more than 1080p whilst playing GTA IV, and the black gaps between monitors is annoying, but it still looks awesome. Anybody think they can match that?
More pics @ engadget