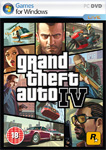 Today's the day. Grand Theft Auto IV is now officially available in North America for the PC. Those of you elsewhere in the world like myself will have to wait just one more day until it's in stores, though no doubt any of you who preordered on the Internet will have received your copy early.
We invite any of you who already have the game to share your impressions in our forums. Should you require any assistance with the game, either technically or with missions or achievements, we have dedicated GTA IV forums for gameplay discussion, mission/achievement help, technical assistance, multiplayer and of course, modding.
To post on our forums you'll need an account, if you don't already have one you can head over to the registration page to get started. It's free and only takes a moment to complete.
One of the benefits of an account is the ability to upload mods to our downloads database. We know that very soon we'll be seeing some great GTA IV mods getting released, and we'll likely be featuring some of the best ones on our homepage, so if that's something you might be interested in, sign up!
Enjoy the game!