In my last news post regarding the state of the GTA IV modding scene I talked about various tools currently in development by members of the community. Today we have another to add to the list. I mentioned OpenIV in the first mod round-up here, and since then it has gone through a number of versions in closed beta testing. Today they have just released the first public beta version of 0.8, and the tool is now a very powerful piece of software, and is comparable to SparkIV for those of you who have already used that.
OpenIV's already extensive feature list includes the following (download links at end of post):
Viewing of GTA IV files via function "Open Content"

Full support of the RPF2 format. You can add, delete or replace any files

Viewing and extacting data from RPF3 archives (file names are normal)

Full support of the IMG3 format. You can add, delete or replace any files

Textures replacing in any *.WTD and *.WHM files. The current version supports only PNG images and replacing files with the ones with same resolution. (For example, a texture 512х512 might be replaced only with another 512х512 one)

In-built SCO scripts decompiler (Currently is very bugged)

Ability to preview most of the GTA IV file formats

Ability to extend program features with external tools

Ability to extract resource (RSC) files either in original compressed or decompressed state via function "Save content". For example this function allows to save all textures from a *.WTD file without opening it.

Any file could be viewed as raw byte data via "View in Hex" function

Large GTA IV map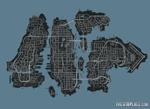 On a slightly related note, yesterday I used SparkIV to extract all of the radar images from texture files. I then pieced these together (all 63 of them!) in Photoshop to create a very high resolution map of GTA IV's Liberty City. The map measures 5632x4096 and is around 1.9MB in lossless PNG format. Those on slower connections might want to view a medium sized version I created, that's 2048x1489 and just over 1MB. View the full map or the medium sized version.
In time we'll be adding various items of interest to the map, pigeons, jumps, weapons etc. So stay tuned for updates on those, or keep an eye on our GTA IV maps page.
Links