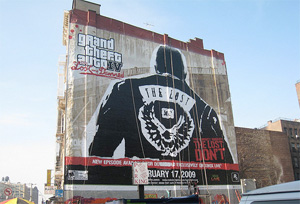 As you may know, earlier this week Rockstar Games flew myself and several other webmasters from the large GTA fansites out to New York City to preview The Lost and Damned. I've now written up my diary/preview of the event which you can read on The Lost and Damned fansite event page. The event was hosted by Rockstar Games and Microsoft, and the preview itself was from 2pm-6pm on the Tuesday. The rest of our time there has been detailed in my preview, with some photos I took alongside (unfortunately none from the event itself as no cameras were allowed).
The other webmasters that attended were Psy from GTA4.tv, Adam, Jevon and illspirit from GTANet, G-WizZ from GTAWH.com, and finally, Zidane and Kodo from GTAGaming.
I'd like to personally give a massive thanks to Rockstar for inviting us all out again to this event. I had a great time both playing the game, as well as meeting various Rockstars and the other webmasters again.
Link: The Lost and Damned Fansite Event
P.S. If you have any questions about The Lost and Damned, or anything to do with the event itself, just ask them in the comments and I'll do my best to answer them for you.