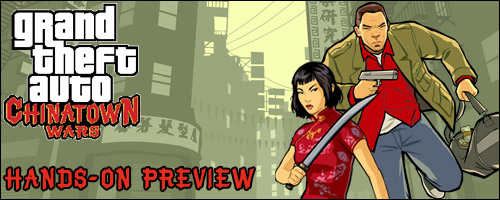 Before all of our flights back from New York last Wednesday, we all had a few hours to kill. Because of this, Rockstar decided to allow us to come to their offices where they had a little treat in store for us all. As there were quite a few of us there, we went in two groups, the UK guys (me, Psy, Adam, Jevon) went first due to our earlier flights, while the Americans (illspirit, G-WizZ, Kodo, Zidane) went in after we'd finished.
Not only were we going to be shown Chinatown Wars, we'd also have a hands-on with the game! The last part of my fansite event diary/preview thing is now online for all to read. If you didn't see last week when I posted about The Lost and Damned part of it then you may want to start from there, if you did then simply skip ahead to the final page to read my hands-on preview of Chinatown Wars. If what you've seen hasn't impressed you so far, then be sure to read this as it may just change your mind.
Again, if you have any questions for me about the event or about what I saw of Chinatown Wars, then don't hesitate to ask in the comments, I'll do my best to answer any questions you have.