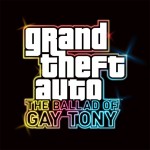 Rockstar have finally announced details of the second episode of downloadable content exclusive to the Xbox 360, The Ballad of Gay Tony, in which as many of us imagined, we will play as Luis Lopez.
Additionally, a disc containing both episodes entitled Grand Theft Auto: Episodes from Liberty City will be released and will retail for .99.
From the press release:
Rockstar Games is proud to announce the fall release of both the second episode of Grand Theft Auto: The Ballad of Gay Tony - exclusively for download on Xbox LIVE® online entertainment network, and Grand Theft Auto: Episodes from Liberty City, which will include both episode one The Lost and Damned, and episode two The Ballad of Gay Tony together on a single disc exclusively for Xbox 360® video game and entertainment system from Microsoft. "Liberty City is the most vibrant game world we've created yet. The episodic structure has allowed us to interweave stories, gameplay and atmosphere in a whole new way," said Sam Houser, Founder of Rockstar Games. "The team at Rockstar North have yet again surpassed themselves, and made something that is both epic and very innovative. This episode's focus on high-end night life contrasts with the biker gangs portrayed in The Lost and Damned, whilst giving us a lot of new gameplay possibilities." Grand Theft Auto IV's second downloadable episode, The Ballad of Gay Tony injects Liberty City with an overdose of guns, glitz, and grime. As Luis Lopez, part-time hoodlum and full-time assistant to legendary nightclub impresario Tony Prince (aka "Gay Tony"), players will struggle with the competing loyalties of family and friends, and with the uncertainty about who is real and who is fake in a world in which everyone has a price.
Like the first one, this episode will cost .99 (1600 MS points). If you're planning on buying the disc version with both episodes, you'll be pleased to know that it will not require a copy of the original Grand Theft Auto IV.
We've opened a new subforum for discussion of episode two, though you can use this news post to discuss the announcement.