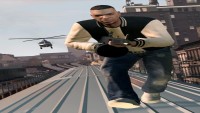 A few plot details have been revealed in a USA Today article, along with one brand new screenshot. The article has a few quotes from Rockstar Games co-founder Dan Houser, and details about a couple of missions - including the parachuting mission.
Packed with action set pieces à la films such as Mission: Impossible and Bad Boys, Gay Tony has Luis at one point parachuting from a helicopter onto a glass-windowed skyscraper. Inside he blasts his way to his prey a few floors below and shoots his target, who then topples out of the bullet-ridden window. Luis dives out after him, wearing a parachute that glides him to safety.

In another scene, Luis drops on to the top of a moving subway train from a bridge and unhooks one of the cars for a maniacal high-rolling collector of one-of-a-kind artifacts. A Skyhook chopper airlifts the freed subway car away.
Check out the full article for more details.
Remember the trailer is launching in about 45 minutes!