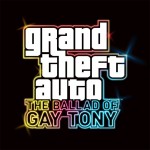 Grand Theft Auto: The Ballad of Gay Tony is now available, it can be obtained in two ways. Firstly via the Xbox LIVE Marketplace for 1600 Points (.99 / £12.15). The second way is to purchase Grand Theft Auto: Episodes from Liberty City, which also includes The Lost and Damned, for .99 (£34.99).
Hope you're all enjoying the game by now!
Remember our forums are always here if you need assistance with anything, or if you just want to share something cool you've found. Registration is free, so if you aren't already a member, what are you waiting for?