Tonight I have added a new stunt video and a load more mods to the database - according to the previous poll it's what you wanted to see more of. First of all the stunt video named 'One Step Beyond'. It's the latest stunt video by ZeroX, the newest member of the ATS stunting crew. Only a solo video this time but still worth the watch!
The reason ZeroX made a solo video is because he wanted to improve his editing skills and didn't have the time to do a whole vid worth of new stunts, which is why you may notice a couple of older stunts mixed in with the new ones. The editing turned out pretty good.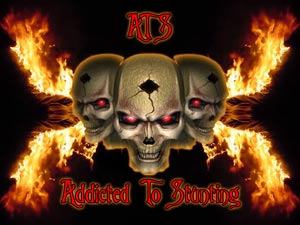 Download 'One Step Beyond' 50.74MB .wmv
And the new mods with both manual and .vcm versions for you, in no particular order:
1984 Porsche 911 Carrera - Manual :: VCM
1986 Jeep Cherokee - Manual :: VCM
Dodge Ram SRT-10 '04 - Manual :: VCM
Chrysler 300C '05 - Manual :: VCM
Toyota Supra '95 FnF - Manual :: VCM
Rancher FP-150 - Manual :: VCM
Porsche 911 Twin Turbo '97 - Manual :: VCM
Mitsubishi Lancer Evolution VI - Manual :: VCM
Nissan Skyline GT-R R32 - Manual :: VCM
Enjoy! This recent addition brings to over 500 mods in the database!