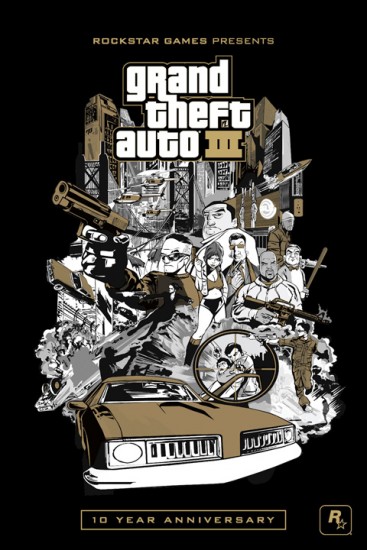 Rockstar Games have just come out with a somewhat surprising announcement, albeit quite a cool one. To celebrate the 10th anniversary of the release of Grand Theft Auto III, Rockstar will be releasing a mobile version of the game for a select few mobile devices (check the list below to see if it is coming to yours). As of yet there are no details on exactly how the game will differ from the original version, but judging by the power of modern mobile devices it's quite likely it will be fully 3D just like the original.
Rockstar point out that if you're in the NYC area and heading to New York Comic Con, you can stop by their booth where mobile versions of the game will be available to play! You'll also be able to tour an exclusive gallery featuring the game's signature art, and have chances to win the special anniversary edition Grand Theft Auto III and Rockstar Games gear.
Full list of devices supporting GTA III 10th Anniversary Edition:
Apple iOS Devices: iPad 2, iPhone 4S
Android Phones: Droid X2, HTC Evo 2, LG Optimus 2X, Motorola Atrix, Samsung Galaxy S2
Android Tablets: Acer Iconia, Asus Eee Pad, Motorola Xoom, Samsung Galaxy Tab 10.1
In addition to the game, Rockstar also announced a limited-edition action figure of Claude, the protagonist of GTA III. It's been created by renowned collectible manufacturer Sideshow, and will be available for pre-order in limited quantities at the Rockstar Warehouse. See a slideshow of images below.
This fully articulated 1:6 scale action figure of Claude comes dressed in his original attire of cargo pants and a bomber jacket, but can also sport his iconic Liberty City Prison-issued jumpsuit (supplied) and comes equipped with an arsenal of classic weapons from Grand Theft Auto III including a bat, knife, grenades, pistol, sniper rifle, and assault rifle.

This rare and valuable collector's item MSRPs for 9.99, but Social Club members have the exclusive opportunity to nick one for free. Visit www.rockstargames.com/socialclub/sweepstakes/gtaiiianniversary and fill out the entry form by this Sunday October 16th for a chance to be one of three lucky winners.