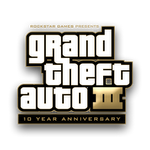 Grand Theft Auto III has finally made its way on to select Apple and Android devices today. We'd definitely recommend getting this game if your device is compatible - just think of all the nostalgia! App Store and Android Market links are below. New features added to the game include:
an intuitive, fully scalable and customizable user interface;

upgraded textures;

greater resolution and draw distance;

new mission replay and autosave features for an all-new experience on mobile devices.

Welcome to Liberty City. Where it all began.

Rockstar Games celebrates the 10th anniversary of one of the most influential games of all time. The critically acclaimed blockbuster Grand Theft Auto III comes to mobile devices, bringing to life the dark and seedy underworld of Liberty City. With a massive and diverse open world, a wild cast of characters from every walk of life and the freedom to explore at will, Grand Theft Auto III puts the dark, intriguing and ruthless world of crime at your fingertips.

With stellar voice acting, a darkly comic storyline, a stunning soundtrack and revolutionary open-world gameplay, Grand Theft Auto III is the game that defined the open world genre for a generation.
Thankfully the app is a universal binary, so for those who own an iPad and an iPhone will only have to purchase the game once to play it on multiple devices, the same goes for those of you with Android devices. Let us know in the comments if you've bought it and how it plays on your device, on which you'll need around 690MB of free space by the way. I'll be trying it on my iPad 2 tonight and I might post a short review for you all later.
Apple owners: iTunes Link - .99 (£2.99 / 3,99 €)
Android owners: Market Link - .99 (£3.23 / 3,85 €)
NOTE (for Android users): Localised versions of the game have been made for users in Australia, Germany and Japan, presumably to comply with local laws and/or language issues. If you reside in one of these countries you'll have to purchase the localised version.
Currently supported devices:
Apple iOS Devices: iPad 1 & 2, iPhone 4 & 4S, iPod touch 4th Generation

Android Phones: HTC Rezound, LG Optimus 2x, Motorola Atrix 4G, Motorola Droid X2, Motorola Photon 4G, Samsung Galaxy R, T-Mobile G2x

Android Tablets: Acer Iconia, Asus Eee Pad Transformer, Dell Streak 7, LG Optimus Pad, Motorola Xoom, Samsung Galaxy Tab 8.9 and 10.1, Sony Tablet S, Toshiba Thrive