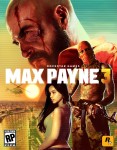 Rockstar Games today announced that Max Payne 3 will be delayed by a couple of months, to ensure it will deliver "the highest quality, groundbreaking entertainment experience" that we expect. Originally slated for a March 2012 release, the new dates for the PS3 and Xbox 360 are 15th May, 2012 in North America and 18th May, 2012 internationally. The PC version will come 2 weeks later on 29th May, 2012 in North America and 1st June, 2012 internationally.
Now the question on GTA V fans' minds is will this delay affect the release of GTA V? It's worth pointing out here that GTA V currently has no official release date, so any delay won't really be seen by us in terms of specific dates. Based on Rockstar's recent trend of delivering blockbuster titles in time for the summer period, as well as the "2405 theory", many fans believed a Summer 2012 release was on the cards, in fact, many insist that the game must be released on the 24th May 2012 due to the aforementioned theory.
From a sales point of view it would be extremely unwise for a company to release two huge games around the same time, as this pits the two against each other and thus reduces sales of each, since most people for a variety of reasons don't buy multiple games at once, instead opting for one or the other. So with Max Payne 3 taking up this spot, is an October 2012 date looking more likely for GTA V?

Personally, I think so. My prediction right from the start was an October 2012 release, and based on this news today I think it's looking even more possible. Especially bearing in mind that we haven't even seen a second (or third etc.) trailer for the game yet. That said, The Scotsman recently reported that Rockstar North were looking for games testers, hinting that the game was nearing completion and ready for the painstakingly laborious testing stage of development. The position has since been removed from Rockstar's Jobs site, however there are a number of others still open for applications.
In conclusion, none of us can say with any real certainty when the game will be released, but we think it's safe to say the May 2012 release many of you were hoping for is looking impossible unlikely now. So can we turn our hope to October 2012? Or do you think it will be even later than that, perhaps May 2013? Let us know the comments!