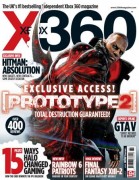 The latest issue of X360, the UK's bestselling independent Xbox 360 magazine went on sale this week, in it is an interesting industry reaction piece to Grand Theft Auto V. Since there's not all that much news about GTA V right now I thought I'd post about it and see if people agree with the opinions given by the experts, as well as the fans; a couple of quotes are from yours truly.
The first talking point in the article unsurprisingly gives thought to the release date. Jesse Divnich, vice president of insights and analysis at EEDAR (a videogame research company) says it "could be May, could be October, but it is definitely coming in 2012". Wedbush Securities' Michael Pachter, who hasn't been right about many things regarding GTA, believed the game would be released a week before E3 (end of May), although it's worth pointing out this article was written before we heard news of Max Payne 3's delay, which subsequently rendered a May release for GTA V extremely implausible.
I was asked what I thought of an October 2012 release with GTA going head-to-head in sales against a new Call of Duty game, and if it could break the franchise's sales record:
"It'll certainly be interesting if their releases are close together", says Chris Phillips, founder of influential fan site The GTA Place. "COD has seen some insane numbers. I believe GTA V can most definitely give them a run for their money, and I would love to see the game reclaim that record."
And on how a GTA game could be improved:
It calls for the kind of expertise possessed by someone who's spent years tirelessly documenting - not to mention playing - all things GTA. People like Chris Phillips... "I'd really like to see a military presence in GTA V," he asserts. "The return of tanks and military aircraft pursuing you in the wake of your epic path of destruction will always be an awesome 'holy shit this is badass' experience."
Our friends at GTANet are also quoted on this:
And people like the team behind the massive GTA fan network GTANet... "Bring back the satire," they plead, speaking as one omniscient, GTA-loving entity. "Realism is great, but one of the strongest elements of GTA is the satirical take on American culture."
So the consensus among "experts" and fans alike seems to be that we're looking at an October 2012 release date. And that we think if GTA is going to improve it needs to move back towards its roots, to have more archaic humour, and plain and simple just be more fun - less of the realism. What are your thoughts?
For anyone wanting to read the full 2-page article, I've stitched together 8 high-res screenshots of the digital format of the magazine from my iPad and produced a full image of it here:
In closing, I'd just like to point out that I do have a life outside of GTA, despite what the article's editor implies