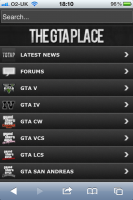 The beginning of another month brings about the beginning of something new here at The GTA Place; the launch of our dedicated mobile website.
If you've ever tried to browse The GTA Place on your phone or any other mobile device you'll have realised just how cumbersome and slow it was; large images, small links, and a hell of a lot of scrolling, not to mention data usage. With TGTAP's new mobile website you no longer have to worry about any of that. We've stripped away all the big images, removed unnecessary JavaScript, and tailored everything to fit perfectly on smaller screens, with no horizontal scrolling! In fact, pages on our mobile site could theoretically load up to 15 times quicker than the desktop site, this is especially good news for those of you who experience slower connections or who have limited data usage.
We've seen a huge increase in mobile traffic over the last 3 months, and over 25,000 of you now browse the site from your mobile devices every month. We think a lot of you will be pleased about this development. The website has been tested on many different devices and smartphones including iPhones, Android phones, BlackBerrys, and Windows Phone. It's will even work on many old WAP-enabled "dumbphones". If you want to see it in action on your device, just head on over to m.thegtaplace.com. Or just go to the normal site, you'll be redirected automatically but we don't force this, you'll always have the option to go back to the full desktop website if you wish.
If you spot any bugs or want to suggest any improvements we can make, let us know in the comments. If it's a bug you're reporting please let us know your device and browser so we can look into it in more detail.
Link: TGTAP Mobile Site