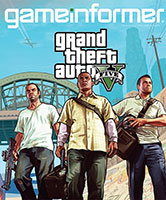 Following on from the cover reveal earlier, the digital version of this month's Game Informer magazine is out now. Below is our summary of the massive amount of information covered in the magazine.
Characters
The game will feature three protagonists which you can switch between at any time. Michael, Trevor, and Franklin
Michael (heard voicing trailer 1) is a retired bank robber living a lavish lifestyle thanks to a deal with the FIB
Michael has a wife, Amanda, and a teenage daughter, Tracy, and teenage son Jimmy
Trevor is a friend of Michael's. He lives in a trailer in a desert region of the map. He is a war veteran and has flight experience.
Each of the three characters has their own personality, motivations and skillset
Each character has their own story arc
When not in control of a character, they will be going about their daily business - you are free to switch between them at nearly any time you want.
You can flip off people, with different types of people in different areas reacting differently
"Within the story, you're going to know information about a character before they know it because you're going to know what the other people know when you play as them"
No RPG style elements to character customisation, however, you can buy different clothes for each character
Some familiar faces from GTA IV and EFLC will make a return, though not major ones like Niko.
Gameplay
Gameplay mechanics have evolved greatly since GTA IV
Driving is less boat-like as in GTA IV, has more of a racing game feel to it
More vehicles than any GTA game has ever had before - including BMX bikes, road bikes, dirt bikes, huge variety of cars and trucks, helicopters, planes, ATVs and jet skis
Shooting and melee combat has evolved, though no specifics are given about this
Trevor was shown to pick up a can of gasoline and douse vehicles etc. and set fire to it using a lighter
Rappelling down buildings seems to be possible (at least in one mission shown)
Map
Los Santos is bigger than Red Dead Redemption, San Andreas and GTA IV combined
Includes: beachfronts, wine country, large wilderness area, fully explorable Mt. Chiliad, Salton Sea region, military base, sprawling suburban hills, and bustling urban centre.
The ocean is fully explorable, including being able to dive.
Missions
There are several multi-tiered complex missions like "Three Leaf Clover" in GTA IV
Missions sometimes feature all three characters, and have a different tone depending on who you are playing as - you will sometimes be able to switch characters during a mission if you choose
Random encounters make a return from GTA IV but appear in a much bigger way
You will come across dynamic missions in the game. For example you may see a broken down car or a hitchiker. You can choose to stop and interact, or just completely ignore them
A musical score will increase tension during missions
Misc.
Ammu-Nation makes a return
Strip clubs, stand up comedy, internet cafes, and television shows all make a return
Many additional sophisticated minigames will be featured, similar to poker in Red Dead Redemption
Michael, Trevor and Franklin could have some hobbies only available to them - although most minigames will be available to all three characters.
Activities include yoga, triathlons, jet skiing, base jumping, tennis and golf
Dating will not make a return but you'll have some normal friends to interact with
Some familiar faces from GTA IV and EFLC will make a return, though not major ones like Niko.
Same universe as GTA IV
There will be "loads of stuff" to spend your money on in the in-game economy, though no property
The mobile phone concept makes a return, but friends won't annoy you by calling all the time! You'll be able to access the Internet with it.
Census information and vehicle sales data were used as a guide to depict the game world.
Screenshots
We know it's a lot to take in! But you can share your thoughts in the forums.