While not a new, Rockstar have released the Trevor ATV artwork as a downloadable wallpaper in a multitude of different resolutions for different devices. We originally saw this during the media blowout a couple of weeks ago.
We must admit, this cropped version of the artwork might strike you as a little awkward when compared to the original piece as it cuts of the tip of the barrel of the gun Trevor is holding, as well as the bottom of the ATV's wheels. That said, the artwork is now in a much higher resolution that is suitable for desktop wallpapers. Check it out below.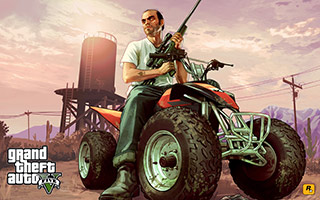 This, and the original uncropped version of this artwork can be found on our GTA V artwork page.
Rockstar also tweeted this tidbit about Trevor:
Meet Trevor Phillips, the unhinged, unpredictable, psychopathic career criminal and drug addict that you will play as one of the three main protagonists in Grand Theft Auto V this spring.