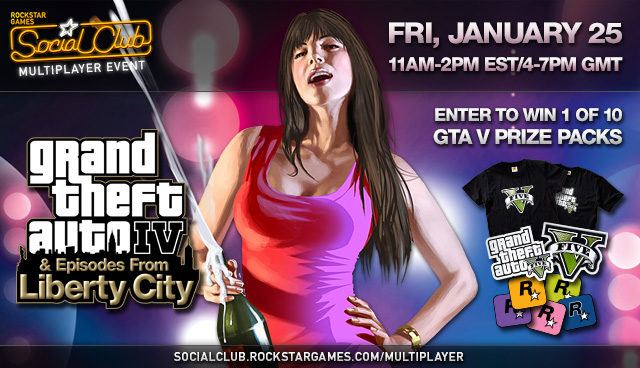 This Friday, 25th January, you can join Rockstar from 4-7PM GMT (11AM-2PM EST) and play in a variety of multiplayer modes from GTA IV, The Lost and Damned, and The Ballad of Gay Tony, on all 3 platforms.
For a chance at getting invited into a game you'll need to add one of the devs to your friends list.
PlayRockstar11 (PSN)

GwRockstar3 (Xbox LIVE)

GwRockstar1 (PC & streamed on our Twitch TV channel)

PlayRockstar12 (PSN)

During this time, Rockstar will open the sweepstakes page where you'll have a chance to win a GTA V prize pack in the giveaway, which include t-shirts and stickers.
For more information check the newswire article.