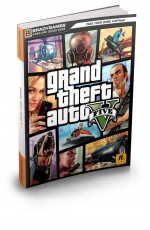 BradyGames is once again creating the official guide for a GTA games, as Grand Theft Auto V is currently receiving the same in-depth playthrough the previous games have had. Announced via press release today, the company has revealed there will be two editions of the guide available - a standard paperback copy, and a limited edition hardcover copy which contains additional content including a lithograph and a collection of illustrations.
BradyGames is thrilled to be creating the Grand Theft Auto V™ Signature Series Strategy Guide, bigger and better than ever and the only official guide that covers it all. This strategy guide leads you through the entire game, providing a comprehensive walk-through, detailed character outlines, complete mission and mini-games coverage, highly detailed maps and more.

Signature Series Features (9780744014679, $ 24.99, 8.5" x 11", 400 pages):

Complete walkthrough for Grand Theft Auto V™
Learn everything there is to know about the three playable lead characters, Michael, Franklin, and Trevor: their motivations, skills, unique special abilities and more;
Mission maps identify key objectives, specify targets, and chart the fastest path to success;
Complete coverage of all off-mission activities ranging from arms trafficking to tennis to properties and businesses;
Our maps cover every square mile Grand Theft Auto V™ – Rockstar's biggest, most diverse and most detailed open world to date.

Limited Edition Features

 (

9780744014952

, $ 36.99, 8.5" x 11", 432 pages):

Hardcover collectible guide;
Exclusive lithograph of official Grand Theft Auto V™ artwork;
A collection of Grand Theft Auto V™ illustrations;
Plus, all of the tips and tactics that are included in our Signature Series guide.

 
The guide is due to be released on the same day as the game (17th September) and should be available from all good retailers. Amazon are currently providing 36% off the RRP quoted above, so you might want to go ahead and pre-order your copy right now to ensure you receive it on the day.
Amazon.com: Standard (current unavailable) | Limited Edition ($ 23.14)
Amazon.co.uk: Standard (current unavailable) | Limited Edition (£12.79)