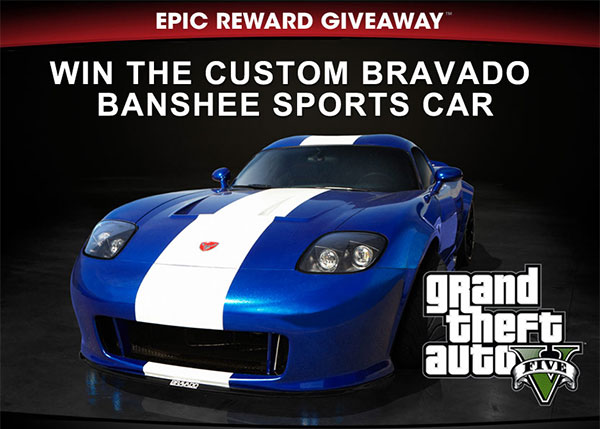 That sweet looking real-life Bravado Banshee Rockstar teased us about last week has now been revealed as the prize for a competition being run by GameStop in the U.S. (and Puerto Rico and Guam), which unfortunately excludes everyone residing outside those 3 countries. As you can probably tell, the Banshee is a modified Dodge Viper which is based on the GTA V Banshee which is based on the real-life Dodge Viper... life imitating art imitating life, or something like that.
 
According to GameStop the car is worth $ 180,000, and the winner will also get a cheque (not a joke, Americans still use cheques) for $ 70,000. Due to ridiculous workings of American law, the "lucky" winner will have to pay a huge amount of taxes on the car, as well as insurance and such, the cheque will help cover these costs. But hey, you'll have a Banshee, so it's not like you'll be complaining much! If you do manage to win I sure hope you have somewhere safe to keep it.
 
Curious what looks like on the streets? Some bloke called Jalen Cullen snapped these pics of the car:
 
So that's probably the best competition prize Rockstar have ever offered up. Here's hoping to more of these competitions in the future, and not just in the U.S.!