Just a week to go until we finally get our hands on GTAV. Serial great-GTA-artwork-producer Patrick Brown has celebrated by drawing this brilliant picture simply entitled "Launch Piece":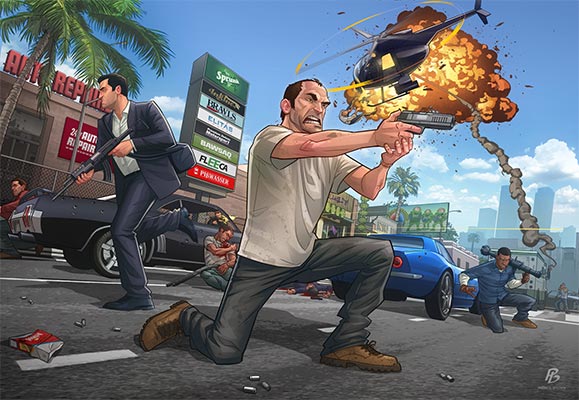 Grand Theft Auto V is only 6 days away! I wanted to do something for the launch of the game and this is what I've come up with. I really wanted to do something that uses all three protagonists in one scene, so here we have a bit of a gang shootout that takes part in a robbery, you can see the armored truck in the distance.
I really can't wait for GTA V, it's so close but the days are going so slow, it's going to be amazing. You can expect many more GTA V artworks to come, I am planning on doing a GTA V Online piece of fan art too.
Greatest Game Series of the Decade
GTA fans: GameSpot are holding a Greatest Games Series of the Decade competition, and Grand Theft Auto is currently losing out to Elder Scrolls. Head on over to GameSpot and vote for GTA!