Rockstar have finally let us in on some more details for GTA Online, including the all important question: "when will we be able to play!?"
 
A small patch will be rolling out on Xbox Live and PSN servers starting early morning in the US, that's from about 7 AM EST, so from 12 PM in the UK, early afternoon in the rest of Europe. Once this has been downloaded you should be able to access it. Remember you can jump into online by selecting the 4th (bottom quadrant) in your character selection wheel. Many people have been asking when GTA Online takes place, some were incorrectly told it follows on from GTA V, it doesn't, it is set before GTA V. Rockstar have now confirmed the events take place a few months before GTA V's story starts.
 
There's a lot more information Rockstar have provided, which is quoted below.
 
Home and Garage Security

There's plenty of havoc and treachery you can cause out in the open world of course, but in order to prevent some really annoying "griefing", we've designed house party invitations specifically to be a friendly social affair where players can visit each other's pads without fear of having them ruined or losing their hard-earned vehicles in the process. If someone invites you into their property, then it is considered a friendly visit and you will not be able to shoot up their place or steal their cars from their garage. By the way, in any given lobby, if you and another player own the same piece of property, you will each be able to enter your own personal instance of that property at any given time. You will also be able to enter each other's instance of that property if you exchange and accept an invite. This way, multiple instances of ownership of the same property within a lobby can co-exist.

GTA$ and Fair Play

To allay some concerns we've heard on this subject, we can assure you that the game is designed such that the option of purchasable GTA$ should not disrupt the playing field – and there are a few mechanics in place to help ensure that. All players still have to rank up with Reputation Points (RP) in order to get access to purchase high-end items.  No one can begin GTA Online and simply spend a lot of money out of the gate to get a leg up. You will have to earn your stripes and play to unlock access to the aspirational clothes, guns and other items. Please also remember that in GTA Online, hustling to afford the finer things by earning GTA$ doing robberies, stick-ups, winning races and other profitable activities is a fun gameplay experience rather than ever being a 'grind'. As we mentioned on Wednesday, we will constantly tweak all areas of the game to make it play fairer and iron out any balancing problems (while fixing all the other problems we encounter!), but we really need your help in figuring out what those issues are. So please work with us on that!

An Ever-Growing Collection of Jobs

Grand Theft Auto Online is a long-term GTA experience that you can expect to be built-upon, to grow and to evolve in many ways in the coming weeks, months and beyond. As part of that, there will be a massive amount of Jobs available to play over time as we will be regularly adding new ones for you to enjoy. Additionally, you will soon be helping to add content to the game world yourselves, by creating custom Race and Deathmatch Jobs through the Content Creator tool which we plan to release this fall. Grand Theft Auto Online is a collaborative project between Rockstar and all GTA players worldwide, so expect that we'll effectively be working on it together from day one. As a very small example, the Crew Hierarchies feature that was introduced a few weeks back on Social Club was a direct result of popular fan feedback from last year – and we'll be looking at the GTA Online community's feedback, input and ideas constantly to help inform how the game itself will grow and evolve. As mentioned last week, we'll be looking closely at your feedback emails sent to 

[email protected]

 and in the GTA Online Suggestion Box board at the forthcoming Social Club Forums. We're very much looking forward to welcoming you as active participants in the world of GTA Online starting tomorrow.

The Character Creation System

The hereditary-based character creation system of Grand Theft Auto Online allows for a multitude of options to create your avatar that will then inhabit the online world of Los Santos & Blaine County.  Choose your gender then decide on your mother and father.  From there, you can choose to give one parent genetic dominance or leave them more evenly matched. The choice is yours. Next, you adjust a set of lifestyle variables which help determine your character's appearance and starting stats. Decide how much sleep he/she gets, how much partying they indulge in, how much honest work versus illegal activity, and more. Essentially, you can adjust the genetics to wind up with a fresh faced lad or lass or a grizzled, haggard degenerate or anywhere in between! You'll also be able to preview your end result in real time all throughout to ensure you're satisfied before putting your character on a direct flight to LS. Of course, once you're out and about in the open world, you can further customize your character with haircuts, clothing and accessories to suit your tastes.
 
Finally, there's some exclusive content available for those of you who are Social Club members, which should be everyone by now. Read on for details on what you can get access to.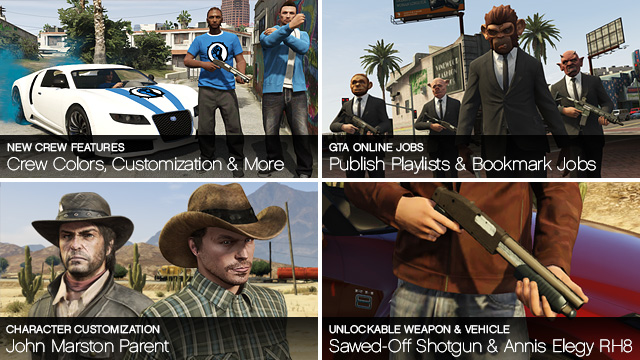 In Grand Theft Auto Online, Social Club members get access to weaponry and vehicular unlocks, a whole new suite of Crew features to represent and coordinate with your squad, and special tools to get the most out of Rockstar Jobs and user-created Jobs when the Content Creator tool launches this fall. Check out the updated www.rockstargames.com/V/socialclub for an overview of GTA Online Social Club features including new Crew customization possibilities like Crew colors and Emblem vehicle decals, Crew messaging options, and Open or Closed Crew Sessions. Plus unlocks like the Sawed-Off Shotgun, the Annis Elegy RH8 and the John Marston Parent option to do the Marston family proud in the modern day West. Also stay tuned for info later in October about the very first GTA Online Social Club Events which will have special Event Playlists curated by Rockstar, reserved in-game license plate awards for top players, and more. So, if you haven't joined, we recommend doing so!