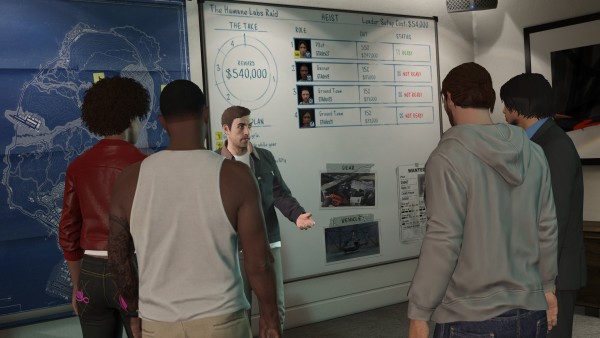 Various gaming outlets recently got to play a heist in GTA Online, and their hands-on impressions have been released today in both text and video form from IGN, GamesRadar and GameReactor. In addition to their article IGN also put together a 23 minute video on how to plan a heist.
 
According to IGN the heists are "spectacular". They consist of several smaller set-up missions before a final big event. To start a heist in the first place you'll need to be at least rank 12, as well as own a high end apartment, then you'll simply need to wait for a call from Lester. There is also a setup cost, apparently around $ 60,000, this may vary in different missions/heists.
 
IGN go into detail about all this in their article, we won't copy and paste all of that here in case you don't want any minor spoilers, feel free to read it at your own leisure, or just watch their video we linked to above. We will quote their conclusion though, as it certainly sings very high praise for heists, making it sound as if the delays and the waiting will all be worth it.
If this sounds like it was a lot, and if it sounds like it was intense, it's because it was both of those things. Just a single full heist arc yielded several great Could-you-believe-it-when? stories for the next day's watercooler chat. Heck, this isn't even all of ours from our single play session!
 
GamesRadar reckon that each of the heists (there are 5 in this first update) will take around 2 or 3 hours to complete, depending on your approach and skill of course.
The update delivers five major Heists, playable in four-player co-op, that take around 2 or 3 hours each to complete subject to your skills and approach. Each heist is split into substantial preparation missions of 20-30 minutes each, similar to story mode heists. The update also gives you new daily objectives (a bit like Destiny), new Versus modes and a raft of new vehicles and equipment, including a VTOL Hydra jet fighter and night vision goggles.
 
The guys at their GTAVOclock team put their thoughts into a very thorough 1 hour long report, which you can listen to in their YouTube video, or below.
 
 
And finally a quote from GameReactor reminding us of the importance of good communication in your team:
Cooperation is essential, tag-teaming Merryweather soldiers on foot or in vehicles while escaping with a machine gun-packing jeep, or putting down covering fire to open an escape for fellow crew members boxed in by authorities in a hand-off gone wrong.

Communication is important, even vital come one standout moment in a half day's worth of them: working as a coordinated sniper team during a nighttime infiltration of the Lab. If any guard or lab assistant is alerted, it's mission over. Cue timed simultaneous takedowns of patrols and witnesses.
 
Rockstar provided sites with loads of new screenshots of heists in action, check them out in our gallery below.