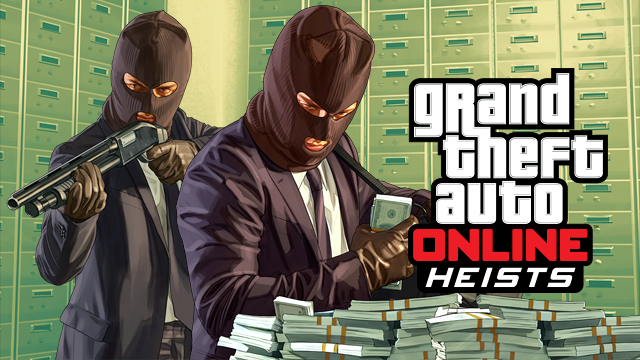 The latest free update for GTA Online dropped earlier today, and it's the one you've been waiting a full 2 years for. Heists.
 
We probably didn't need a news article to tell you this information, but here's Rockstar's quick recap on them:
Heists, a brand new 4-player cooperative gameplay experience for Grand Theft Auto Online, giving players the chance to team up and pull off a string of intense, multi-part heists, raids and robberies across Los Santos and Blaine County, is now available for free inside Grand Theft Auto Online.

Plan, Prepare, Execute – Online Heists span numerous missions featuring new gameplay, vehicles, weapons, and scenarios to test a team's full set of skills: from computer hacking to stealth infiltration, precision driving to aerial dogfighting, sniping, skydiving and much more.
 

4-Player Teams, 4 Ways to Play – Choose your roles and strategize to complete each stage of a Heist, with tight communication and coordination the key to success. Some missions will require the team to work as a single unit, while others will break the team into separate roles to complete key objectives. Replay each Heist to experience a different perspective on the action, and complete Elite Challenges for extra cash.
 

Additional New Adversary Modes – Brings new kinds of competition to GTA Online while new Daily Objectives and other Freemode activities bring chaos to the streets of Los Santos and Blaine County.
 
Assemble Your Team – Create a Crew or join existing Crews at the Rockstar Games Social Club to earn additional RP rewards as you play.
As you might expect the servers are getting pretty hammered and have been throughout the day, so things may be slow or not even play at all. All you can do is be patient.
If you've managed to play a heist let us know in the comments how it went!