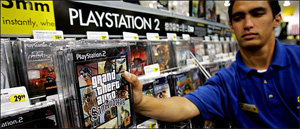 As we
reported
earlier, GTA: San Andreas is now rated adults only in the United States. Since then
Take 2 Interactive shares
have dropped, production of the game has been put to a stop,
Developers Strikes Back
and
Hilary Clinton
still think "M for Mature" is a rating meant for little children.
Since yesterday stores such as Walmart, EBGames, Target and Circuit City have removed all GTA San Andreas copies from their shelves. Even though Take 2 Interactive said they will be releasing a new version in the fourth quarter ,which will not contain any of the sex scenes, retailers including Wal-Mart and Best Buy said yesterday that they were not certain they would carry a cleaned-up version of the game.
EBgames, who have about 1500 stores around the US, is only removing it from their shelves for about a week. The company said it will give them enough time to put "Adults Only" stickers on each game.
Over all, about 55 percent of retailers who sells the game took the game off their shelves. When IGN interviewed Rockstar Games this is what they had to say about the "Hot Coffee" mod:
We are obviously aware of the mod community, but the skill, expertise and knowledge of Grand Theft Auto code required to create this mod surprised all of us. These elements were never meant to be found.
A patch for the current PC version of GTA: San Andreas is also expected to be released soon. Not only will it have some bug fixes, but it will also remove the sex scenes from the game.