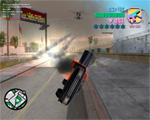 It's been a while since we posted some Vice City news, but this one is sure worth it! Just a few minutes ago the team at SA-MP , who are actually working on a multiplayer mod for San Andreas, released the Vice City version "VC-MP". For those of you who enjoyed MTA will be amazed at how amazing and very smooth VC MP actualy is. It brings in new features such as riding boats and you are now able to actualy shoot other vehicles with the hunter.
Oh and do you remember when you rode as a passenger in MTA VC? Players would know that the lag wasn't very pleasant. However in VC MP the players around you are like single player pedestrians! Well enough talking. So go and download this multiplayer mod now and roam the streets of Vice City.. online!
Instructions:
Open the .exe file and install into your Vice City directory

Run "vc-mp.exe" (in your Vice City directory)

Enter nickname, IP and port and click Launch Game

Play!

Read more.... for some server IP's. Feel free to post yours! Just run your server and go to IPchicken.com if you don't know your IP.