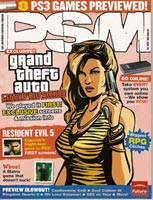 Not only did PSM confirm snow that we posted about earlier, but also a whole lot more!
A new method of travelling between islands in the game is introduced - Ferries. Presumably this will be similar to the airport in San Andreas, where you purchase a ticket before appearing at your destination.
Police helicopters will return, in the style we saw in GTA3, unfortunately not flyable though. Having said that the article does mention there are "dozens of new vehicles", one of them being a sports car "new to the GTA world". We also learn that holding down the PSP's shoulder buttons will enable you to use the other buttons to do other things, a great way to overcome the lack of controls in my opinion.
The game apparently starts with Vinnie (the character from GTA Advance) bringing you to the exact same safehouse used by Claude in GTA3. The islands are the same as in GTA3, though you may be getting to Staunton Island quite rapidly, judging by some of the mission descriptions written in the mag.
The GTA LCS scans page has been updated with some low quality scans, we'll hopefully have better ones soon!
Thanks to GTAPortable for the news.