Looks like WalMart have made a bit of a mistake here, probably unknowingly it has to be said. But they've unveiled what looks to be the official boxart for Liberty City Stories.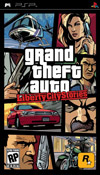 Click for full size
As you can see the boxart pictures Salvatore Leone and Ray Machowski. Along with the yet unnamed girl and another character, there's also a bike (possibly the Freeway?) and what looks to be the police helicopter (the ones we saw in GTA3).
Anyway we've updated the artwork page for the game, hopefully Rockstar will send us the high resolution boxart soon, as they did for San Andreas.
Thanks to TheDude500 for finding this.
Source: Wal*Mart