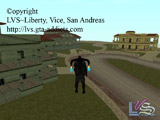 The LVS Team have released the first public DevShot of their intuitive idea to bring Liberty City and Vice City into San Andreas.
The download is comparatively tiny compared to some other total conversions, with this one at under 5mb, even users on dialup can download it relatively quickly.
Download GTA LVS and post in our forums and let everyone know how it plays. Bearing in mind it is as of yet only 10% complete.