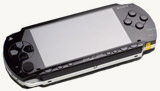 Just a quick reminder to everyone that Sony have released their PSP across Europe and Australasia. A PSP will set you back around £179.99/€249.99 depending on what you purchase.
Many retailers and e-tailers have already sold out of their initial stock quota as it's in such high demand. Though at the time of posting, huge online shops such as Amazon.co.uk still have stock. Buying a PSP there along with Liberty City Stories will cost you just over £208 which is actually pretty good, probably at least a £10 saving on any high street price.
Tonight we also have the possibility of an official site update, still no word from Rockstar but today would be an apt time to coincide with the PSP release.
On a slightly related note last week saw the North American release of the PSP's 2.00 update.