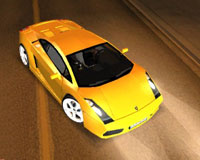 After adding all JVT's Vice City mods over the past week, I thought we better fill up the San Andreas part of our database with his amazing mods, and they are all great. Here's an alphabetical list of the 26 mods he has made for San Andreas so far. We'll be adding new ones when he releases them.
Clothing:
Mods:
New Load Screens - "Vice" San Andreas
Vehicles:
Cadillac Cien Shark Dream Tuning
Lamborghini Gallardo Hamann Tuning
Mercedes-Benz CLS500 GreenFairy Tuning
Mower Tuning (lol)
Toyota Supra Twin Turbo RZ 1996
Toyota Supra VeilSide Tuning 1999
Enjoy!