Well this was the most successful April Fools I've ever done, In roughly 24 hours, over 30,000 unique visitors saw the site, and over 40000 page views, a lot of them realising it was April, but hilariously, some of them didn't realise. It even managed to prompt some foreign GTA fansites to make a whole new section on their website for it!
So how did people know? Well firstly they will have noticed a somewhat poorly chosen font for the word "Chicago". Secondly you needed to be a little more knowledgeable about domain names - I had set gtachicago.com's nameservers to APRIL.GTACHICAGO.COM and FOOLS.GTACHICAGO.COM...
One site claimed they contacted Rockstar to confirm it was a hoax (this was at 2am on a Saturday...I smell a cover-up for embarrassment)...and it was amazing to see how one site analysed every little detail to prove it was false, some people obviously lose their sense of humour at this time of year...
Another thing we found particularly amusing were people commenting on the 'amateur source code' - it was copied and pasted from the Official San Andreas website when it first launched to make it look more authentic... Yeah it is bad but what the hell, it's not me your insulting, it's Rockstar!
Anyway I hope you all enjoyed it, and I know this is all over the internet now and is being linked on hundreds of websites and has been posted on virtually every gaming forum in the world, so no doubt you must have seen it somewhere. Below is the full April Fools joke as I wrote it...
----------------------------------------------------------------------------------
Amazing news! A few weeks ago I found the domains www.gtachicago.com and www.grandtheftautochicago.com had been registered and were parked at Register.com (see screenshot) which as you know is where Rockstar have also parked gta4.com. After contacting Rockstar they told me to keep quiet so I reluctantly did...
But now today, Rockstar Games have announced just one of the cities for the next instalment of the series, GTA4. Chicago, the windy city. Unlike previous GTA games where cities have been based upon real life one, GTA4 will take place in real life cities. The storyline from Rockstar sounds intriguing, the game will apparently span across three different eras.
Chicago, 1933. Since January 16, 1920, alcohol has been illegal to consume, gangs rule the streets, and homicide rates are soaring. Johnny Roselli has just escaped a lifetime prison sentence after being falsely accused of murdering his own family. He's now returned to lead his Mafia gang back with a vengance to bring an end to the prohibition, and by any means necessary, even if it means wiping out rival gangs.
The next two eras have been kept kind of secret by Rockstar, although we hear they are 1970 and 2010 from other sources, also, Rockstar have currently left the titles of these cities un-announced, probably to let all this hype circulate. We'll be bringing you more news on these exciting revelations as soon as we have it though, so stay tuned!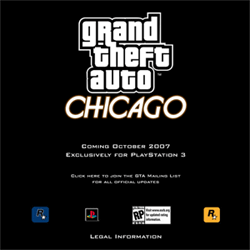 As you see by visiting the official website, it's almost the same as what the official San Andreas site looked like back when it launched. No flash intro yet, took a month for them to do one for SA so perhaps by the end of the month we'll have one for Chicago? The font they've used for the logo looks like a typical 1930's typeface, seems they're adamant on getting the atmosphere authentic.
Anyway enough of my excited babble! Get discussing this in our forums and let us know your wishes for the game!